Steelhead Jig Hooks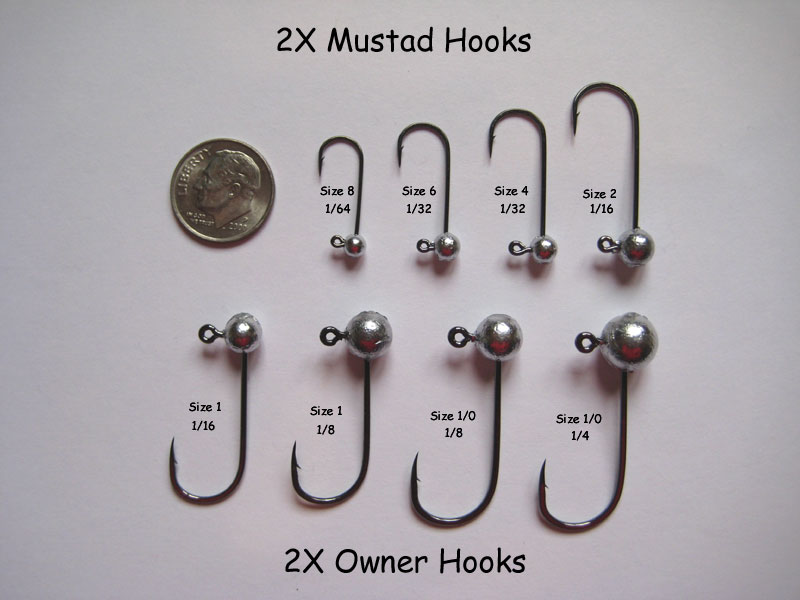 Unpainted Jig Hooks
$4.50 (Owner=5 pack) (Mustad=6 pack)

Unpainted Jig Hooks - $4.50 (Owner=5 pack) (Mustad=6 pack)

There are many jig hooks on the market today, and some are definitely better than others. I've tried many hook brands and understand that a good hook is critical to your landing success. I use extra strong Owner and Mustad hooks for all my steelhead jigs and salmon jigs because they are super strong and incredibly sharp. You won't find a better hook for steelhead fishing on the market.

Size 2, 4, 6, and 8 are Mustad's 2X strong, needle-sharp hooks. This stout, sturdy hook is an excellent choice for fishing micro jigs for Salmon and Steelhead.

Size 1 and 1/0 are Owner's 2X strong, needle sharp hooks. These hooks will handle any fish, any where, any time!
Painted Jig Hooks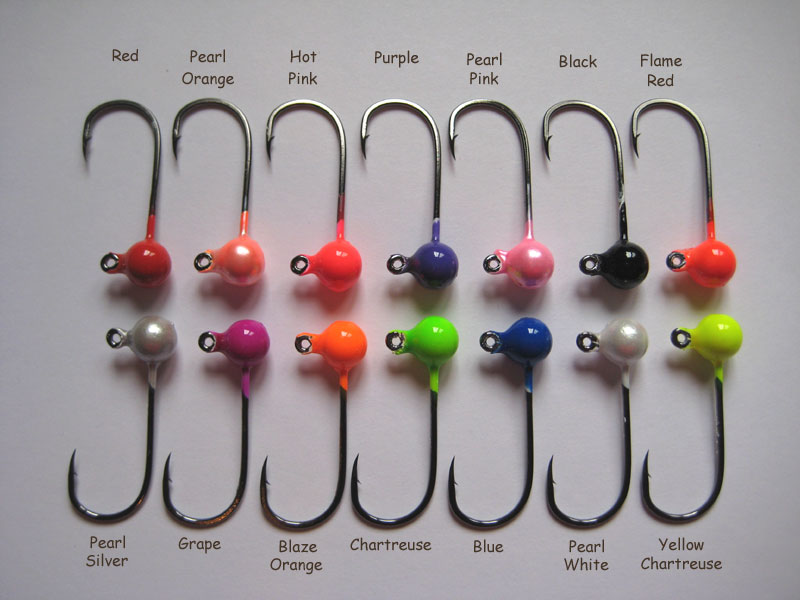 $7.00 (Owner=5 pack) (Mustad=6 pack)
What Fishermen are saying about Vinyle Coated Jig Heads -

"I've bought a few jigs and painted jig heads from you in the recent past and put them to use yesterday. First off, thanks for the high quality jigs. The thing that I am impressed with the most is the durability of the painted heads. I could bounce them off rocks all day long with not a mar one to any of the paint. Hats off to you. After using your jigs, I won't use another. Thanks for a killer product"!

Mike Grace

"It's no secret that you can get Chums to hit a wide variety of jigs, but wanted to let you know how well yours held up. I'm a stickler when it comes to the paint chipping off a jig head and your jigs really don't have that problem compared to others I've used. They still look pretty darn good even after the abuse I put them through".

"I used your jigs all day. I know I always mention it in nearly every email, but the fact that there are no chipped heads even after I've been dragging bottom for portions of the day making sure it's on the fish's nose amazes me. Haven't found another jig yet that doesn't chip".

Drew Matzen

"I got the jigs you painted yesterday. They look terrific! Thanks for such a quality product and the service was super fast too. You'll be seeing more orders from me in the future, to be sure"!

Tris Yerrington

Meridian, Idaho

"Your Low Profile Jigs can take a beating. I used the same one on all the fish and bounced it off A LOT OF ROCKS and it still looks like new!"

Shawn Dalrymple

"I am very impressed with how your jigs hold up fish after fish!"

Travis Bishop