Brads Steelhead and Salmon Jigs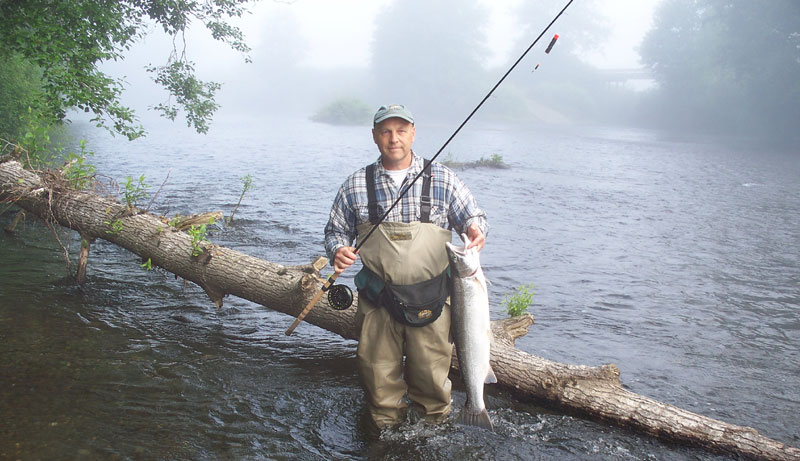 I was hooked after landing my first steelhead at the age of fifteen and since then fishing has been my hobby and passion. Tying flies and jigs just added to the excitement of trying to get those giant rainbows to bite. As a result, I decided to take my hobby to a new level which has resulted in selling jigs at a local sporting goods store and on the internet. Those who jig fish for steelhead and salmon know that it is one of the easiest and most exciting ways to hook fish, without exception. If you are new to jig fishing give it a try, there will be no looking back. Brad's jig designs are the result of many years of fishing experience and tying jigs. Each of these jigs are proven fish catchers in the rivers of the Pacific Northwest.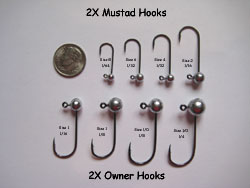 Best Hooks on the Market
I am a firm believer in doing things "right," and that includes using the best materials available on the market today and it all starts with the hook.

There are many jig hooks on the market today, and some are definitely better than others. I've tried many hook brands and understand that a good hook is critical to your landing success. I use Owner and Mustad hooks for all my jigs because they are proven to be super strong and incredibly sharp. You won't find a better hook on the market. Unless requested, 1/4 & 1/8 oz jigs will be tied on 1/0 hooks, 1/16 oz jigs will be tied on size 1 hooks. Micro jigs (1/32 & 1/64 oz) will be tied on Mustad hooks.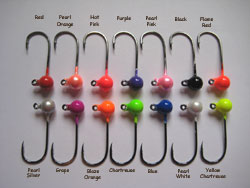 Vinyl Coated Steelhead Jigs
A colorful jig head does make a difference! Many times a change of color has immediately produced a strike, so keep a careful eye on your float after changing jigs. Each jig is dipped a minimum of three times in colorful vinyl paint made by Componet Systems. Dipping the jig heads instead of using powder paint takes a lot more time, but it is the "toughest finish ever put on a jig" or lure. Due to its flexibility after drying, it can withstand anything you throw it at. All eyes are clean and ready to fish.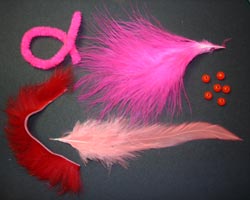 Quality Materials
If you want a jig that looks fantastic and "catches fish", you need one made from the best materials on the market. I do not take any shortcuts when tying jigs, and the products from Hareline Dubbin and Fish Hunter are grade "A" and help me get the desired effects that I'm after.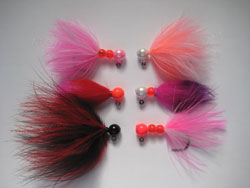 Hand Tied to Perfection
From start to finish, each jig is hand-tied to perfection. I want you to be able to fish with confidence knowing that you will be able to handle any fish, any where, any time! That's a guarantee.
Custom orders are available. If you have a favorite jig design, give me a call or email, and I will be happy to duplicate the patterns for you.